Have products or services to sell? Want to earn from your WordPress website, but not sure where to start? Worry no more. In this WooCommerce tutorial, you will learn how to Set Up Ecommerce on WordPress and turn a regular WordPress site to an eCommerce store.
In this Article, We'll take a look at:
What is WooCommerce
WooCommerce is an open-source eCommerce plugin designed for WordPress. It is a quick platform for both small and large size online businesses alike. WooCommerce has a variety of functions, such as different shipping and payment methods, variable products, and much more.
Read on as you will learn everything needed to set up WooCommerce on your WordPress website in this tutorial.
Why Choose WooCommerce?
WooCommerce is the most popular eCommerce solution for WordPress by some margin. It boasts over 4 million active installs, a 4.6 user rating on WordPress.org, and an army of happy, loyal digital store owners. Among the many eCommerce plugins you can use for free, WooCommerce is considered the top of the list. Here's why:
Built for WordPress. It allows seamless integration with WordPress, and you can also connect with millions of WordPress users.
Scalable with your needs. Small or large, few or many, WooCommerce can ride the wave with you.
Ensure security. WooCommerce protects your data from falling into the hands of any third-party platform. It also secures the transaction between consumers and you.
Audited by Sucuri. This ensures that WooCommerce sticks to the coding standards and best practices of WordPress.
A vast and ever-growing global community. There are more than 350 contributors and 1 million WooCommerce installations up to this date.
Well-documented. WooCommerce provides comprehensive documentation and guides that cover a broad range of topics like setup, SSL, theming, snippets, and so on.
An array of free and paid extensions. The most defining benefit of WooCommerce is a large number of free and paid extensions. They allow you to customize your WooCommerce with a wide range of features and integrations.
With that being said, continue reading our WooCommerce tutorial to know how to start an eCommerce store using WooCommerce.
Step 1 – Installing and Activating WooCommerce
As WooCommerce is a free WordPress plugin, The first thing you'll need to do is to install WooCommerce on your website. You can download it for free from the WordPress repository, then upload it to your site. Even easier, you can install it right through your WordPress dashboard.
Secondly, follow this tutorial to install WooCommerce:
From your WordPress dashboard, select Plugins from the left side menu.
Press Add New and type WooCommerce in the search bar.
Find WooCommerce from the search results and tap Install Now.
Give the plugin a moment to install. Then, click on the Activate button:
At this point, the plugin will be up and running on your website!
Step 2 – Setting Up WooCommerce
You will then see a WooCommerce welcome message asking to run the Setup Wizard. Press the purple button to begin. Alternatively, you can also run the wizard from WooCommerce -> Help -> Setup Wizard section.
The first page of the WooCommerce setup wizard should look like this:
Here, WooCommerce is prompting you to enter some basic information about your store.  Set the country, address, currency, and the product types you're planning to sell. Once you're done, click Let's Go!
Keep in mind that anything you set here (or throughout the rest of the setup wizard) can be changed later on in your WooCommerce settings if necessary. For now, the next step in our WooCommerce tutorial 2019 is to select Let's Go.
Step 3: Choose Your Payment Processors
On the next page, you can decide what payments you'll enable for your online store. By default, you can use Stripe and/or PayPal, along with offline payments such as checks and cash:
Simply select the options you'd like to use, and WooCommerce will set them up. You can also use extensions to add more payment processors to your store, which we'll talk about later.
Step 4: Configure Your Shipping Options
Next, you'll find the Shipping screen Here, you can decide how much customers will be charged for shipping. You can set one rate for your preferred zone, and another for customers who are in other locations. If you like, you can also offer free shipping to one or both groups.
Configure the shipping details for your store for two different zones – local and international. Set the shipping cost (flat rate or free shipping) and the dimension unit of your choice. To set a live rate, you can make use of the available extensions that include popular carrier services such as FedEx, UPS, etc.
Step 5: Review Optional Add-Ons
At this point, you've configured all the basics for your online WooCommerce store. The next page of the setup wizard presents you with a few optional add-ons, WooCommerce will then offer you to enable four of the most recommended extensions to enhance the functionality of your store – Facebook integration, MailChimp, Automated Taxes, and WooCommerce Admin. Just leave them checked if you're planning to use all of them and press Continue.
Step 6: Install the Jetpack Plugin (Optional if you want)
You will next be prompted to connect your store with Jetpack. It's necessary if you want to enable automated taxes and payment setup. Jetpack also gives additional benefits such as better security, store monitoring, product promotion, and the ability to see the statistics of your store. Click Continue with Jetpack to proceed.
Create a Jetpack account by entering your email address, username, and password. Or, you can make use of the one-click registration through Google or Facebook account. Creating a new account will direct you to the Jetpack interface while signing in will move you to the final part of the setup process.
Jetpack is a handy WordPress plugin that offers a wide range of features. This includes security functionality, various analytics, and more. It can be a useful addition to your WooCommerce store, but isn't required – so it's up to you whether you'd like to install it or not.
Step 7: Complete the Setup Process
Your WooCommerce store is now ready to rock and roll. You'll find a number of useful links here. You can import products to your store, return to your WordPress dashboard, or edit the settings you just configured.
Most likely, however, what you'll want to do now is start adding products. To keep following our WordPress WooCommerce tutorial, go ahead and select Create a Product now
Adding and Managing New Products in WooCommerce
After installing WooCommerce, you'll find two new tabs on your dashboard's side menu. These are called WooCommerce (your general settings area) and Products (your products settings area).
Adding Products
Before we continue with the tutorial, it is essential to learn the basics of WooCommerce and understand what product categories, attributes, and types are:
Product category. It helps group your products. For example, if you sell apparel, 'top-wear,' 'bottom wear,' and 'nightwear' are product categories. They enable the shopper to locate products from the same category quickly. You can create as many categories as you want and edit them anytime.
Attributes. This filters the products either by size, color, fabric, and the likes to help the customers choose their desired products easily. You can either assign attributes independently to each product or set up a global attribute for the entire web page.
Product Types. WooCommerce saves your time by having predefined product types:

Simple – a stand-alone product that is shipped without any other additional options. For example, one physical book.
Grouped – you can group related items such as a dozen shot glasses.
Virtual – these are products that require no shipping as they are not physical entities, like services.
Downloadable – digital products that you can download. For example, songs, images, videos, e-books, etc.
External – products that are advertised on your website, but is sold elsewhere.
Variable – these products have variable qualities like sizes, colors, etc. For example, shoes and clothes.
With so many product types, it can be confusing when adding products to WooCommerce.
But don't worry, the process is pretty much the same as uploading a new post to your blog. Follow the WooCommerce tutorial below to add a product to your online store:
To start setting up your online store, you can either follow the link at the end of the setup wizard or go to Products > Add New. Either way, this will enable you to add your first product, using the familiar WordPress editor:
Type in your product's name and add a detailed description that includes relevant information about your product. Here's what just a title and description looks like in a live preview:
Adding Key Details to Your Product
Scroll down to the Product data section and choose the product type. Then, set additional information – price, stock and inventory, shipping, linked products, etc.
Here, you can add all kinds of details about your product. At the very top, you can select whether or not the product is virtual (which removes the Shipping tab) and if it is downloadable. Then, in the General tab, you can enter in the regular and sale prices (sales can be time-sensitive).
If you're selling digital products, you'll also have to upload the file to be purchased, customize the download limit (leave it blank to mark it as unlimited), and set the download expiry (leave it blank to keep it available permanently):
Next, in the Inventory tab, you can manage your stock by entering in the quantity of the product, stock status (in/out of stock), and if you'd like to allow backorders:
There are a number of other useful tabs here as well. The Shipping section will enable you to enter the item's weight, dimensions, and shipping class. In the Linked Products tab, you can add upsells and cross-sells, while Attributes enables you to describe the product's characteristics.
How to Creating Attributes and Variable Products in WooCommerce
As you can see, there are plenty of options for adding details to your WooCommerce products and customizing them fully. Let's take a closer look at two of the most useful options in the Product data section – attributes and variable products. No matter what type of products you're selling, attributes are useful for communicating vital characteristics in a concise way. However, what if you also sell items that come in multiple options? For that, you can select the Variable product option:
This will give you access to a new Variations tab, where you can create multiple versions of your product using the attributes you already assigned. So for example, let's say you offer a shirt in red, green, and purple. You can add a variation for each color, then give each a unique description, price, and so on.
Your customers will be able to see all available variations on the product page:
This makes it easy for visitors to view everything you have to offer at a glance. Plus, it means you don't have to create separate product pages for slight variations on the same item.
How to Customizing Product Short Description
Underneath the Product data widget, you'll also find a section labeled Product short description:
Here, you can create a concise tagline that will appear underneath the product's title. You can use this description to highlight the item's primary benefits and incorporate one or more keywords to help customers locate it in searches.
After customizing your product's data and description, don't forget to check out the other options on the product page as well. You can add tags to your product, place it in a category, and include a featured image or even an entire image gallery.
Here's what your final product might look like on the front end:
After the add description Add the product categories, tags, a featured image, and product gallery images. These controls are almost identical to the ones you see when creating a new WordPress post. The only difference is the Catalog visibility option which has the following settings:
Shop and search results. Your products will be visible everywhere: search results, category, and shop pages.
Shop only or Search results only. The products will show up either only on shop and category pages or only on search results.
Hidden. Products will be visible only on the single product page, and not on any other pages.

Once you're happy with the settings, press Publish and check the Preview.
Managing Your WooCommerce Products
You'll probably include a number of items in your WooCommerce store, which means you'll need an easy way to manage them. Fortunately, you can do this through the Products tab in your dashboard.
For example, you can select All Products to see every item currently listed in your store. You can add, edit, and delete products here as needed:
In the other pages under the Products section, you can view your product categories, tags, and attributes. Each of these pages looks like the standard WordPress Posts > Categories page and can help you keep your entire inventory organized.
How to Customize Your WooCommerce Store
Earlier in our WooCommerce tutorial, you configured a few basic settings for your online store. There are a lot more options to play with, however, which you can find in the new WooCommerce tab.
It's here you can view orders, coupons, and reports, as well as customize settings and add new extensions. Let's walk through each screen one by one.
Orders
First up, the Orders page displays a list of recent purchases on your store, If you sell digital products, there's not much to do here other than view what has been bought lately. However, if you sell physical goods, this is where you can find out what products you need to ship and the status of your orders.
Coupons
WooCommerce has several useful options for adding new coupons to your eCommerce store. In the Coupon tab, you can select Create your first coupon to access the editing screen:
Now that you understand how to manage products on WooCommerce, in this part of the tutorial, you will learn how to handle everything else – orders, coupons, reports, and other settings.
You can add a coupon code and description here. Then, the General tab enables you to edit its basic information: the type of coupon (percentage discount, fixed cart discount, or fixed product discount), its value, free shipping options, and its expiry date:
Under Usage Restrictions, you can set a minimum spend the customer has to make in order to validate the coupon. You can also check the box for Individual use only if you don't want customers to use the coupon in conjunction with other offers.
You can set if the coupon should apply only to non-sale items here, and also select the products and product categories the coupon is applicable to. Finally, you can even ban certain email addresses from coupon usage.
The final tab, Usage Limits, enables you to determine how many times the coupon can be used, both overall and per customer. Then, simply publish your coupon to make it active, and let your customers know about the code they'll need.
Settings
This is where WooCommerce gets really impressive. In the Settings screen, you can customize just about every aspect of your eCommerce store. Elements such as the placement of your 'thousands' separator, the entire checkout process, email options, and much more can be tailored to meet your needs.
Within this section, the General tab covers your store's basic information, including its currency, selling locations, and display options:
Another notable option here is to Enable tax rates and calculations. If you check this box, you'll gain access to a previously hidden Tax tab:
Here, you can let the platform know if the prices you enter for your products will include taxes or not. In the latter case, you can have WooCommerce calculate tax rates for you, based on your store's address, the customer's shipping address, or the customer's billing address.
You'll also be able to configure how taxes will apply to shipping costs, and even determine whether they'll be rounded. Then you can customize the way prices and taxes are displayed on the front end and during the checkout process.
Shipping
Here you can configure your shipping zones and pricing:
You can also customize how shipping is calculated, and choose what the default shipping destination will be. Restricting your store availability only to specific countries is also possible.
Payments
The tab shows you what payment processors are available and active on your store:
Here you can enable and disable whatever payment options you like. Plus, you'll find handy links for customizing the settings for specific processors.
Accounts & Privacy
You can set up a privacy and checkout policy, configure how customer data will be stored and retained, and more.
In addition, you have various options for how customer checkouts will be handled. Under the Guest checkout and Account creation sections, you can determine whether visitors will be able to place orders as guests (i.e., without logging into an account).
Then, you can decide if they'll have the option to log into and/or create a new account during the checkout process. You're even able to provide them with automatically-generated usernames and passwords, in order to speed up the registration process.
Emails
you'll find a list of email notifications that are sent through WooCommerce in response to specific triggers (such as an order being placed or canceled). You can click on any of these emails to enable/disable them, as well as to customize their contents:
Advanced tab
Finally, in the Advanced tab you can enable the REST API, configure keys, apps, and webhooks, and perform other lower-level tasks:
All of these settings can be customized and changed whenever you like, and your store will be updated automatically.
Extensions
Extensions are what make WooCoommerce so flexible and easy to adapt. Similar to WordPress plugins, you can install them from the WooCommerce Extension store.
Although there are mostly premium extensions, they are worth every penny! You can enhance your online shop, add more payment methods, shipping methods, integrate tracking solutions, and synchronize WooCommerce with third-party services.
Keep on reading to find our list of recommended extensions and plugins at the end of this WooCommerce tutorial.
For instance, while you can use WooCommerce with any theme, it can help to pick one that's designed for the plugin. Storefront is a great place to start, but there are plenty of other options in directories such as ThemeForest:
5 Most popular free WordPress themes for your WooCommerce
An excellent place to start, Illdy is a sleek, modern, and minimalistic WordPress theme. Although geared primarily towards portfolio sites due to its single page design, it can also work well for a business website. It is also compatible with other popular plugins.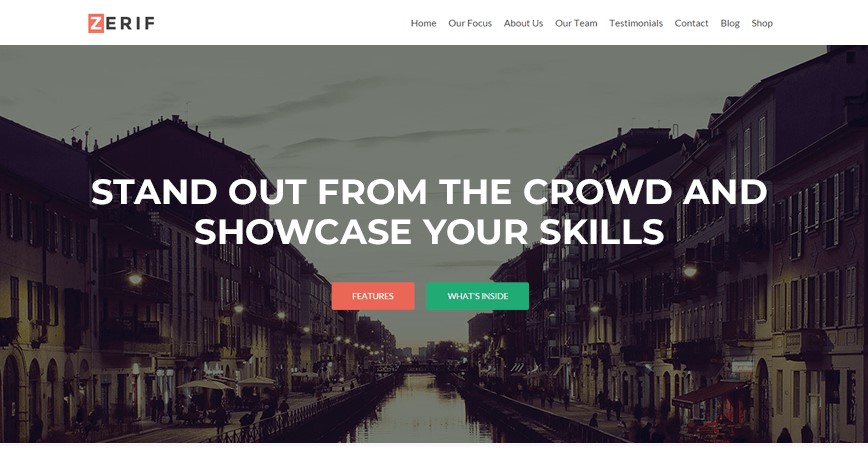 Developed by Themeisle, Zerif Lite is a multipurpose WordPress theme. As such, it can also be used in conjunction with WooCommerce to build a robust ecommerce site. There are over 100,000 active installations, which speaks volumes about its popularity.
It has all the essential features for a modern theme, including responsive design and good optimization. Being lightweight, Zerif is ideal for websites that pay particular emphasis on speed and performance.

Developed by WooCommerce itself, Storefront is a collection of WordPress themes. It comes with various 'child themes,' each of which is designed for a specific e-commerce site.
For instance, the 'Galleria' child theme is perfect for a clothing and fashion store, while the 'Bookshop' theme is intended for an online book store. With more than ten child themes to choose from, each with its own unique flavor and features, you can hardly go wrong with Storefront.
Market is another multi-purpose WordPress theme that works exceptionally well with WooCommerce. It makes it very easy to display products for sale, which is also pleasing to the eye due to its minimalist design language. Market also comes jam-packed with features, including stellar animations that are uncommon on other e-commerce themes.
Last, but certainly not the least is Make. Giving developers plenty of customization options, Make is easily one of the most flexible WooCommerce themes available free of cost.
The best part, you don't need to know anything about programming to take advantage of its features, as it has drag-and-drop functionality and tons of customization options.

10 Most popular WooCommerce extensions for WordPress website
As stated before in this WooCommerce tutorial, extensions and plugins are what make WooCommerce such a powerful eCommerce tool. You can pile a ton of additional useful features on top of the WooCommerce core. It ranges from user experience enhancements, more language and currency options, to dedicated analytics.
To install plugins on WordPress, all you need to do is go over to the admin panel to Plugins -> Add New. Following is a brief list of some of the most popular extensions and plugins for WooCommerce:
A must-have for e-commerce sites that operate on a global scale, the Currency Switcher for WooCommerce is perfect for converting currencies on-the-fly.
Any e-commerce site is incomplete without an online payment solution. With PayPal, you get the world's most widely used payment system on your WooCommerce site.
An alternative to PayPal is the Stripe Payment Gateway for WooCommerce. This can be a better option for some, as it does not take the customer to an external page for payment. Instead, it integrates fully with your website. It also supports Visa, MasterCard, and American Express.
A self-described 'glue' for the WooCommerce and WPML (WordPress Multilingual) plugins, WooCommerce Multilingual allows you to translate every facet of your site to other languages. This includes product information, checkout, and contact.
As the name suggests, the plugin filters out products based on various criteria like price, size, category, etc. Product filtering is a staple of any e-commerce site, so you should definitely have this on your website.
Another neat plugin for enhancing user experience, the WooCommerce Menu Cart displays the visitors' shopping cart on every page in a tiny window. Customers don't have to periodically check the cart manually as they can see which items are in the cart at all times.
Combining social media with e-commerce is always a good idea, and YITH seems to understand this very well. Its WooCommerce Wishlist plugin can be used by visitors to create an item wish list on your e-commerce site, which could then be shared on various social media platforms for all their friends to see. A win-win for both sides.
Keeping in touch with mobile design principles, Pushover for WooCommerce is a tiny yet highly useful plugin for enabling push notifications for your e-commerce business. Whether you want real-time notifications on inventory, sales, or anything else, Pushover will come in handy.
FraudLabs Pro is a fraud prevention plugin that allows you to screen all order transactions and protect your WooCommerce store from fraud orders. It validates all order elements such as geolocation, proxy, email, blacklist, credit card, transaction velocity, etc.
The plugin works behind the scene during the checkout process. It also generates comprehensive reports in the merchant area. This tool is a must to protect against fraud and chargebacks. It's a freemium plugin, meaning you can get a Micro Plan (less than 500 transactions) free of charge.
Another gem of an extension by YITH, Infinite Scrolling, eliminates the wait users have to endure for a new page to load. Instead, they can scroll indefinitely for new items. This is useful for quick comparisons of multiple items, as you don't have to switch between pages.
To separate yourself from other e-commerce stores, you can also add the option for customers to gift wrap the items they have just bought. This makes sending gifts conveniently and can be beneficial for your business come holiday season. The plugin can also be configured to choose between multiple gift wraps.
Conclusion
WooCommerce is undoubtedly a great tool to turn WordPress into a fully-featured eCommerce store. The best part of it is that you don't need in-depth knowledge of programming to sell your products online. We hope that the above WooCommerce tutorial helps you set up and manage your store.
Is there anything important we've missed in our WooCommerce tutorial? If so, let us know in the comments section below!
Boost your Carrier to Next Level: How to How to Become a WordPress Developer in 2020 – A Complete Guide
People also ask
Is WooCommerce Free to Use?
WooCommerce is an open source shopping cart plugin free to download and use on WordPress websites. Running an online store, though, isn't cost-free as there'll be costs associated with hosting and domain fees, at least, along with customizations, design, branding, marketing, and advertising costs.
What is WooCommerce ?
WooCommerce is an open-source eCommerce plugin designed for WordPress. It is a quick platform for both small and large size online businesses alike. WooCommerce has a variety of functions, such as different shipping and payment methods, variable products, and much more.
Which is better Shopify or WooCommerce?
Shopify has set pricing, whereas WooCommerce is more flexible. ... WooCommerce is free, but comes with extra costs, including hosting, a domain name, and security. We know this is one of the most important questions in any WooCommerce vs Shopify comparison. The tricky thing is there's no easy way to pick a winner
Is WooCommerce part of WordPress?
Use WordPress + WooCommerce for online store (FREE) Technically speaking, WooCommerce is a WordPress plugin. It needs to be installed and activated just like any other plugins in order to function. It's free and open source – just like WordPress. ... It's the most popular e-commerce plugin for WordPress out there
Is WooCommerce good for SEO?
WooCommerce is very SEO friendly out of the box. It runs on top of WordPress which itself is standard compliant and good for SEO. However, you can definitely use plugins and techniques to further improve WooCommerce product SEO.
Is Magento better than WooCommerce?
The biggest difference between Magento and WooCommerce is that Magento is feature packed with many eCommerce features that WooCommerce lacks, making it a far more powerful solution. ... The biggest weakness of Magento is that it is not a strong CMS compared to WooCommerce that is built on top of WordPress.